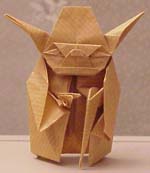 source : Origami Tanteidan Convention #3 by Fumiaki Kawahata


Le Mouvement Français des Plieurs de Papier gathers people fascinated in paper folding.
It was created in 1978 by a young artist, qualified in decorative arts, Jean-Claude Correia, who is now honorary president.

The M.F.P.P keeps contact with every paper folding associations in the world. It tries to be faithful in the ideas of its foundator :
develop creation, artistic expression and communication thanks to practice of paper folding.

The association can be found at 56 rue Coriolis 75012 PARIS.
You can contact them by phone to get informations about the different activities. Phone to (33) 01 43 43 01 69.

You can also reach the association by E-mail :



Or visit the internet site

At the present time, the association is composed by about 450 members and is managed by an administrator council of 13 members -all voluntary- who vote for a direction of 5 members.


Realisations

The M.F.P.P. publishes a quaterly magazine called Le Pli, created and written by folders.


Moreover, the association :

takes part in expositions and exhibitions such as the 'salon de la maquette et du modèle réduit' ;
organise a annual convention : "Les Rencontres de Mai" ;
publishes initiation books and original books like those about subway ticket folding.



Services to members

The M.F.P.P. offers 3 kinds of services to its members :

the Papeterigami

the Oritheque

and the weekly meetings (last news)