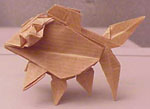 source : Origami Sea Life by John Montroll


Four times in a month, on saturday afternoon, there are meetings at the M.F.P.P. These meetings let the beginners learn the basis and advanced folders improve themselves.

When it's possible, we welcome foreign folders who are visiting Paris.





Last news

Samedi 24/02/2001
Folding of a dove.
It's time to renew your adhesion.
Inscription to Rencontres de Mai (from 24/05 to 27/05).


Saturday 2001/02/10
Fold of 3 models of pelican.
Fold of a bird head.


Saturday 2001/01/06
Lots of chocolate for the new year !
Fold of a modular composed by 9 overlapped cubes.


Saturday 2000/12/11
Lots of people today.
Fold of a dog-go-round
Fold of a modular
Fold of a skating pingouin
Fold of a chess table (BOS of April)


Saturday 2000/11/27
Olivier adds new books to the oritheque :
Origami Sea Life
"Rencontres de Mai 1999" and "Rencontres de Mai 2000"


Saturday 2000/09/02
Fold of a rose.
Fold of a plane (last Olivier Viet's creation, to be published in the next pli).